When a microwave seems to not be working properly, what is going to be your initial reaction?
Frustration likely sets in, and you probably think like most people and plan to throw it away and get a new one. There are cheap microwaves, but they still cost money. If you can find a way to quickly repair the microwave on your own, you can save yourself from having to buy a new one or having to set up a service call with a repairman or technician.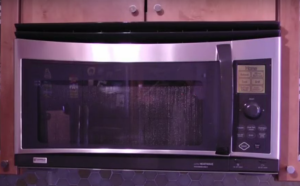 If you have an expensive microwave oven, then you are really not going to like the idea of having to buy a new one. So maybe it's time to do your own troubleshooting after you learn more about common service issues that arise when it comes to microwaves in homes.
When you think of a microwave not working, what comes to mind?
Have you ever put something in the microwave to see everything working, yet your food doesn't heat up at all?
This can be a common problem, as well as a microwave not turning on at all. Sometimes there can be problems with buttons and knobs as well. A microwave can be all set to work, but if you can't use the buttons, it's of no good use.
Another problem that can sometimes come up is when the turntable in a microwave decides not to turn or spin any longer. While the microwave might heat up your food, it's not going to heat it up evenly, and this is very frustrating. A microwave that needs to be fixed might also make certain noises, and these noises can be quite loud.
So what can you do to find the solution for fixing your microwave?
It could be that the fan motor is bad, and you can check it and even replace it if necessary. Your microwave could also have a bad door switch or blown fuses. If your microwave not heating up food is the problem, you can check the power diode, the voltage capacitor or the thermal cutoffs. Your microwave might also have a damaged magnetron.
Obviously after diagnosing certain problems, you might find out that you're better off buying a new microwave. At least you'll know, however, what the problem is and whether or not you can fix it for cheap by hiring a local microwave repair company. It would be nice not to have to spend a bunch of money on a brand new microwave if the solution were much simpler. Other issues you may notice may include seeing sparks or after slamming the door you notice that the unit no longer works.
Our Service Area includes:
Southeast Queens, West Queens, Jamaica, Northeast Queens, Southwest Queens, Northwest Queens, Queens, Rockaways, Central Queens, North Queens, West Central Queens